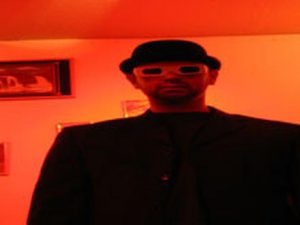 Hailing from West London, Lenny Greenberg aka LG is highly regarded as one of the UKs most accomplished Hip Hop producers. Best known for co-founding the seminal Hip Hop label Sit Tight Records with producer Lopez and rocking countless shows as Micall Parknsuns tour DJ, LG has worked with a plethora of talented artists such as Jehst, Yungun, Dubbledge, Kashmere Verb T, Terra Firma, Sir Smurf Lil, Wordsmith, Aspects, Nomadic Poet (The Planets), Conspicuous The Coroner, Zion-I, Tommy Evans, Daniel Jordan and Martina Topley-Bird. LG was first introduced to Hip hop at the age of 5 when his brother gave him a tape of Grandmaster Flash and the Furious Five The Greatest Messages. For the young LG, hearing people rhythmically rhyming over beats and scratching records seemed strange at first, but he was soon intrigued by the whole Hip Hop culture. Growing up he often heard sections of music on the records his mum played in the Hip Hop tunes he listened to and soon began to build his knowledge of breaks. Before he learned about drum machines and samplers he came to the conclusion that the beats were made by DJs behind turntables. He thought that somehow they were looping breaks, making drum beats and scratching at the same time while an MC rapped. He wanted to learn this amazing skill and managed to get together two old record players and a mixer and started to try to make beats. The first tunes were made by recording an eight bar section of drums onto tape, pausing the tape when it finished and recording the same drums at that point over and over again until he had a three minute tape-loop of those drums. He would then connect a tape deck to an extra channel on the mixer and playback the tape-loop while scratching and cutting in sounds from the turntables over the top and recording this onto another tape sometimes at the same time as a friend was rapping. Nowadays LG has an old meets new approach to production. He loves digging for vinyl and uses the MPC3000 and S950 as well as Logic Audio and various synthesizers. He stopped making beats for a few years due to lack of equipment and concentrated on his skills as a DJ. While at Salford University studying music technology he met producer/DJ Lopez and became part of the Sit Tight Clique, DJing locally in clubs and on pirate radio stations. When he came back to London he worked for a year and a half at BeatBase Studios where he learned about recording, mixing and production from owner Aldwin. LG used any available down-time in the studio to work on his own material. But it wasnt until he took time out to make some beats with DJ partner Lopez that the idea of releasing a record became his main focus. The two soon settled on releasing a 3 track EP featuring vocals from Aspects, Yungun and Science Venom thus giving birth to Sit Tight Records. During the summer of 2004 LG got together with Jehst to set up Arkham Asylum Studios in the Old Street area of East London. This was a very intense year and a half and with an Ox like work ethic the pair completed no less than 6 album projects. Included in this was Micall Parknsuns debut album The Working Class Dad (Sit Tight Records) and The Interview Mixtape (Sit Tight Records), Sir Smurf Lil Myalpha (YNR Productions), Jehst Nuke Proof Suit (High Plains Music) Jehst presentsUnderworld Epics Vol. 1 (Low Life) as well as tracks from Kashmere In The Hour Of Chaos (Receptor Records) Asaviour The Borrowed Ladder (Low Life) and Terra Firma The Foundation (Central Foundation). With LG on the boards handling all of the mixing duties, the work completed during this time not only solidified his rep as a prolific and gifted producer but also as one of the top mix engineers when it comes to Hip Hop in the UK. During this period LG also took the time to complete his own collaboration album with flute player Biscuit. LG & Biscuit Smoke Rings (Sit Tight Records) received critical acclaim for its highly original mix of Hip Hop beats and Jazz flute, effortlessly weaving together both instrumental and vocal tracks with breath-taking results. the two joined forces and made the emotionally neurotic album, Smoke Rings. Biscuit has also played flute on a number of LG productions adding his pain and emotion to LGs soulful soundscapes. LG released his debut solo release on YNR Productions in January 2008 – LG presents… Jehst & Micall Parknsun "The Mission" b/w Kashmere "What Would Happen". LG is currently in the studio working on production for forthcoming albums by Dubbledge, Jehst, Micall Parknsun, Conspicuous The Coroner and Sir Smurf Lil. See more at YnR Productions.
---
---
VIDEOS
:(
We don't have any videos.
NEWS
:(
We don't have any news related to this artist.