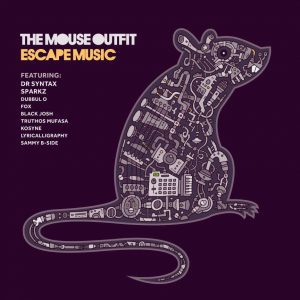 (Scroll down for The Mouse Outfit gigs)
Fresh from a critically acclaimed 2012, this Manchester based 9 piece live ensemble and production team have just released their debut LP today. Their heritage is strong, having collaborated heavily with Dr. Syntax over the last few years and gained some serious notoriety with heads the world over – supporting Akil the MC and Charli 2na as well as Youngblood Brass Band. Escape Music features the lyrical prowess of (again) HHIE favourite Dr. Syntax, Sparx and Eatgood pioneer Kosyne lacing some of the smoothest beats you will ever get the chance to wrap your ears around. It is so heavy that the folks at Wordplay magazine put the album up for free stream last week in the lead up to the release date.
"What I'm displaying on a rhythm is my soul projection" – No messing around, Every Single Time kicks the door down with snappy drums and pizzicato strings…but wait for the bass line and the guitar. It's just pure sexual, if this alone doesn't get you nodding I think you might be in the wrong place. Synners obviously rips it hard with his cadence, cementing his place at the top of the game. Syntax announces on We Ain't Going' Nowhere: "It's not a line-up without Doc Synners in it". Mixing it up in each verse, his flow keeps on evolving. I get the impression that Dr. Syntax is experimenting on this album and that he had to up his game to come into line with some of the up and comers.
Escape Music. Oh me, oh my. The title track of the album and one of the heaviest beat/flow combos I have heard in such a very long time. I seriously haven't been able to stop bumping this for time! It is so effortlessly verbose and rhythmic it's incredible. Honestly though, the triangle just sets it off. Serious.
Who Gwan Test flips it right back around and gets live, right in your face. Full live band complimenting Sparx' and Dubbul O's flows on a melodic and rhythmic level. The Mouse Outfit are individually incredibly talented musicians, yet at no point do any of the different elements fight for attention. This means the tracks become less breaks and verse but more of a musical synergy.
[youtube url="https://www.youtube.com/watch?v=9G5GA744du8″ width="700″ height="400″]
Got Me Thinkin is another super laid back break upon which Sparx rips his lyrical yarn. Featuring vocal samples, brass sections and even a cheeky bit of synth; this one systematically completes the production 101 worksheet with Aplomb. Follow this with easy Jazz and tales of heavy shoe game, Air Max is another notable as Black Josh mixes up his flow all over the place. Blaze It Up has quickly become one of my favourite chord progressions this side of Daniel Lesur.
I could go on all day, waxing lyrical about every track. In reality it comes down to this – every single track gives you something you won't expect. "Kids are learning from my verses like I'm Dr. Seuss" The Mouse Outfit try a ton of different approaches to the production of this album. From recording techniques to the basic melodic ideas, these gents are a creative collective enlisting the help of some of the most creative MC's north of the M25.
[youtube url="https://www.youtube.com/watch?v=xiir1qs7qqE" width="700″ height="400″]
It has been really hard to actually single out a shortlist of big tracks…because beats. The album is a 19 track epic that will leave your jaw dropped and dribbling. This LP is a showcase of some seriously sick rhyme schemes, from both seasoned professionals and some of the younger heads making waves up North. Every single line is different, it's a permanently evolving vocal rhythm – whether it be Dr. Syntax, Sparx, Kosyne…anyone! The production, whether fully live, sampled or completely canned is incredibly snappy and crisp. The Mouse Outfit have created a live sound that epitomises Hip Hop and drives it to a new level. Hopefully now we will see more live bands doing their thing… perhaps even a Raw Dog revival. Keep an eye out for The Mouse Outfit at 'insert summer festival of choice here'. This is billed to be a live experience not to be missed!
Escape Music drops TODAY. Check the album sampler below, then check every facet of the internet for its existence and if you still don't feel like you need it in your life, LEAVE.
Buy the album.
Check out another review from Wordplay Magazine.
V-F
[youtube url="https://www.youtube.com/watch?v=lB34N2dRygU" width="700″ height="400″]
Gigs
On Saturday 15th March 2014, The Mouse Outfit and Sparkz and Dr Syntax will be performing at Village Underground in Shoreditch, London. The night will also feature The Last Skeptik. More information and tickets can be found on Soundcrash Music.
---
---