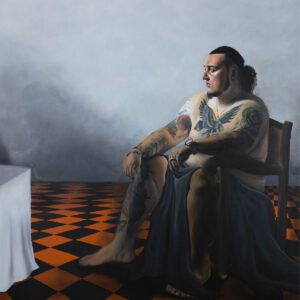 20-track self-produced album from Juga-Naut.
Ten years in the making, 'Time & Place' is likely to be heavyweight British Hip-Hop artist Juga-Naut's magnum opus. Effortlessly interweaving the vintage rare grooves and roots in Hip-Hop's golden era for which he is known globally and across the nation, contemporary minimalist production enabling the foregrounding of his lyrical prowess, and his boldly British wit, cheek, skill, social commentary and turn of phrase, this album will make audiences wake up and take notice of this true master of his craft. Spotlighting his hometown of Nottingham, UK, featuring longtime local collaborators and peers, this self-produced and engineered album features Juga-Naut's best from start to finish. A triumph.
All tracks written, performed, produced, recorded, arranged, mixed and mastered by Juga-Naut.
Track 1 featuring Stickman
Track 7 Featuring Scorzayzee
Track 7, 20 featuring Vandal Savage
Track 11 Featuring Cappo,
Track 17 Featuring Liam Bailey
Tracks 3,14,19, featuring El Dia
Track 18 featuring DJ Pablo (RIP)
Recorded between 2012 – 2016 at Home Studio, 2016 – 2021 VVVISIONS Arthouse Studio and 2022 at The Lodge Studio.
Artwork by Emily Catherine Illustration.
Photograph by Tom Platinum Morley. Photo edits Beegraphics.
Layout by Juga-Naut. 2022.
---
---
VIDEOS
:(
We don't have any videos.
LYRICS
:(
We don't have any lyrics from this album.
NEWS
:(
We don't have any news related to this album.