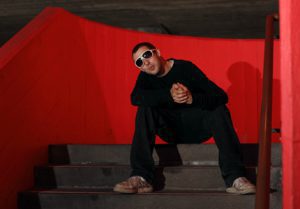 Jam Baxter is on High Focus Records. "Jam Baxter knows how to do a million things, even though he proclaims to only be truly skilled at one. He can hold down twelve day benders like they are NOTHING; he can engage in conversation with any person – no matter the age, race, sex, political beliefs or shoe size; he can stage dive into a crowd of four teenage girls and come out completely unscathed; and he can wear trainers until they evaporate off his feet in a strange, synthetic plumage on Holloway Road.
These are all good life skills, it's just, if given the choice, he would far rather be writing hip hop music – everyday and every night and without exception.
If you were to call Baxter and he was not all like "I am in the studio", then you could assume that something is desperately wrong. That, or he is just down the road eating a fry-up, stumbling through a fish market, rolling around in a park with a tab on his tongue, or eating a Tesco's lunchtime £2.50 meal deal at a busy bus-stop.
As one fifth of UK rap super-ensemble Contact Play, SMB vice-executive and one third of brand spanking new rap super outfit Dead Players (watch this space), it is fair to say that Baxter is just about as prolific as they come. In reference to most things, but most commonly the consumption of alcoholic beverages, bags of stuff or making tunes, his musical allies often have to tell him to slow the fuck down and stop showing them up. There is no question that building remarkable albums, compiling mixtapes and leaving messy stains on stages is and will always be part of his fabric.
Having set the ball rolling as the primary shareholder in Contact Play's debut album 'Champion Fraff', and with the second release on the now gargantuan High Focus Records under his belt as a solo artist (Rinse Out Friday / Spack Out Monday), Jam Baxter claimed the latter half of 2012 as his very own with "The Gruesome Features".
With the apocalypse approaching, the planet in a state of frenzied panic and crippling financial collapse, many things are uncertain for the human race and mother earth. What we can be sure of is this – in one way or another, the future is set to be red, viscous, and strawberry flavoured." – taken from High Focus
---
---