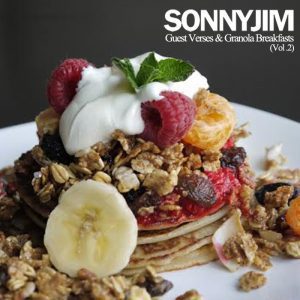 Back with more of that crunchy goodness.
EATGOOD Records proudly present Vol 2 of Sonnyjims Guest Verses & Granola Breakfasts series.
Back in 2012 we dropped the first installment and this ones much of the same, a collection of Sonnyjim guest features, a few exclusives & some radio appearances all packaged up into this delicious serving of granola goodness.
Production on this mixtape comes from Marco Polo (Soulspazm), Apatight, Kosyne, Evil Needle (Soulection), S-TYPE (LuckyMe), Wizard (Cream Collective), Must Volkoff, Ed Boogie (Associated Minds) and many more.
Guest appearences from Dizzy Dustin (Ugly Duckling), Jokerstarr and Prime.
---
---
VIDEOS
:(
We don't have any videos.
LYRICS
:(
We don't have any lyrics from this album.
NEWS
:(
We don't have any news related to this album.