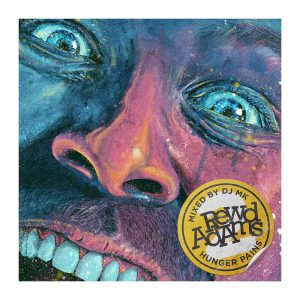 REWD ADAMS returns with a brand new mixtape – HUNGER PAINS 2, the fourth chapter in the Rewd Adams story, following a brief hiatus on from the previous chapters in the saga.
It has been a while since REWD touched down on the previous instalment, but there's no time like the present and that's exactly where REWD is at his sharpest, and trust me he's never been more switched on than this latest offering.
HUNGER PAINS 2 still delivers REWD ADAMS' lighting fast, dextrous wit and charm, but this time he's hungry for more: REWD is on form, sat down; elbows firmly perched on the table, knife and fork in hand ready to eat what life has to offer. Not only have the ingredients matured but also the level of preparation has gone up a notch too. REWD ADAMS isn't just solely about spraying bars or dropping a hot sixteen anymore, this guy can cook up songs and serve hooks that would sit on many a platter.
This new project picks up where the previous volume left off: those unbearable, stabbing, migraine inducing pains of hunger and raw talent that drove the first version have now evolved, especially after vital lessons learned on REWD AWAKENING and HOW NOT TO MAKE A LIVING, Rewd Adams is rejuvenated and ready for the world with a fresh outlook
HUNGER PAINS 2 sits ambiguously between hip hop and the 'grey area' in a way that's distinctly unique without sounding tacky, or trying to be placed where most would consider urban as the genre of choice. Beat selection plays a big part too with REWD ADAMS rolling with two top chefs in TEEZA and BEAT BUTCHA guys at the top of their game who have each produced genre defining records with the biggest names in their respective scenes. Further collaborations come in the form of JETSUN, CARDIAK, LA based SINITUS TEMPO, LDN PRODUCTIONS, with the sole collaboration on the tape coming from RINSE MC.
At twelve condense tracks deep 'HUNGER PAINS 2' is easier to swallow than most… REWD ADAMS is still warming up but this serving will leave you more than fulfilled.
Stitched together by mix tape icon, KISS FM Hip Hop show hosting and DIZZEE RASCAL tour supporting DJ MK.
---
---
VIDEOS
:(
We don't have any videos.
LYRICS
:(
We don't have any lyrics from this album.
NEWS
:(
We don't have any news related to this album.