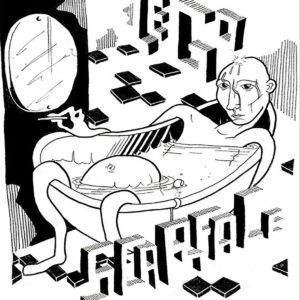 Erudition and poetic intensity have earned Rick Fury the respect of all the right people: die-hard hip-hop fans, industry types and most importantly, his peers. 'Get your shit together' is planted at an intersection between the boom-bap of East Coast hip-hop, blues-inflected portraits of Newcastle, and soulful laid back pop. There's a trademark torrent of honest and raw sentimentality coupled with self-deprecating comedy running throughout 'Lego Scarface'.
This is no more evident than the opening track 'Good to be back' produced by A.D.S with its jazz flute and whiskey soaked vocal samples setting a tone from off of the bat. A strong sense of nostalgia is weaved throughout in the form of carefully selected movie samples which compliment lyrics marked by relatability, honesty, comedy, themes of responsibility and family, and hits the ground running. This is an album that's both arrogant and braggadocio yet open and humble as all great mc's should be!
---
---
VIDEOS

Rick Fury – Tape Rock
LYRICS
:(
We don't have any lyrics from this album.
NEWS
:(
We don't have any news related to this album.