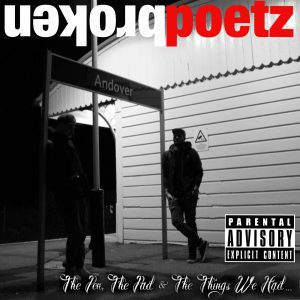 Debut E.P. from Hampshire heads Mystero and D.Know. A soulful, heartfelt, honest-with-a-message release, and one to relax to, relate to and play back again.
Broken Poetz tracks utilise elements of Funk, Soul, Reggae and Blues to form a melting pot of sounds. All tracks are rich in metaphors, hidden meanings, clever wordplay and have a recognisable sound that is very much our own. Every track on the EP explores our psyche and are painfully honest representations of our deepest thoughts and feelings, and we really hope you can see that we have not held anything back as we feel honesty in hip-hop is extremely important and sadly lacking in today's scene!
The EP's key themes are really centred around 'Loss' and learning how to remain positive in times of sadness. Although we touch on very sad times and revisit dark places, the EP remains upbeat and positive and promotes a sense of melancholy throughout.
---
---