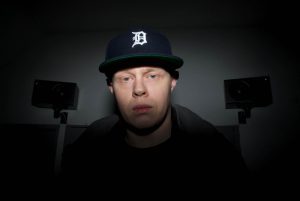 Born and raised in Nottingham, Cappo first entered the world of Hip Hop as a graffiti writer, and started rapping at an early age. He released his first full length LP 'Spaz the World' on Brighton based label, Zebra Traffic in 2003. Since that debut release, Cappo has put out numerous E.P.s and mixtapes (see more via the link above). He released his second major album Genghis in 2010 on Son Records, and the album was entirely self-produced. His third came in collaboration with producer Styly Cee in 2011. This was a 6-track release called "The Fallout", also on Son Records. Bringing us up to date is Cappo's most recent album "Gusto Grizwold: International Vacation" released in the latter half of 2011. The final entry is this impressive discography is an E.P. with young producer Sam Zircon, entitled "Un:Programmable Raw" which came out on April 1st 2013 on Boot Records.
---
---
VIDEOS
LYRICS
:(
We don't have any lyrics by this artist.
NEWS
:(
We don't have any news related to this artist.