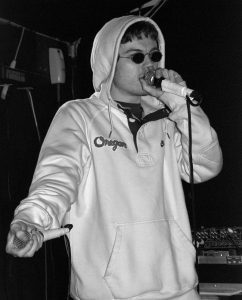 Cracker Jon, has been an enthusiastic musician since the age of 9, when he learnt musical instruments in primary school and continued practice in secondary school.
He grew up as an only child in Croydon, with his dad leaving before he was born. His Mum would work long hours in various areas around London, so his Nan was his main role model in the early stages of growing up. This was never a problem for Jon, as he made the most of what he had, and has kept to that motto till this day, now living on his own, paying stupid amounts of rent and eating dodgy Iceland food!
At the age of 14, Cracker Jon got heavily into his music through pirate radio stations. He learnt from school friends about jungle, drum and bass, UK Garage, and finally UK Hip Hop. Once realising all radio music was very monotonous and not his cup of tea, and understanding that rock music was also not something he felt passionate about, he branched out into the wonderful world of Hip Hop, and the late 1990's was the perfect time to start listening to it. Curious' main ambition for making Hip Hop was that he heard a lot of MC's at the time and realised even at the age of 14 he could do a lot better, and send a better message out than what these wannabe gangsters were doing.
With big underground names already establishing themselves it wasn't long until Jon scrapped the LL Cool J, Missy Elliot and Eminem, and started on the New York Rap, being Das EFX, DITC, Nas, Wu Tang, Company Flow, and found that this was the music that he wanted to re-create. Company Flow – Funcrusher Plus was probably the first proper Hip Hop album Curious B bought. He couldn't believe his ears when he heard the technical rhyme patterns of the two MC's, and from that day he chose to bring his real life down to earth lyrics with a bit of a lyrical twist, and mix it up as much as possible so his talent could not be explained in words.
It wasn't until later stages that he realised that there were people in the UK on the same conscious wavelength as himself, and started to listen to people like Jehst, Klashnekoff, Kashmere and other similar artists. His main thought nowadays is to better them to show he is capable of constructive thoughtful lyricism as well as those gimmicky punchlines you love to hate.
Cracker Jon is now signed to High Focus Records.
– Profile courtesy of Babbletree.
---
---
LYRICS
:(
We don't have any lyrics by this artist.
NEWS
:(
We don't have any news related to this artist.