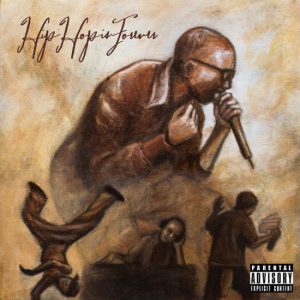 K.I.N.E.T.I.K. teams up with California producer Kuroisoul to tailor a 10-track album "Hip Hop Is Forever", which will be released on Monday 3rd June. How did such a collaboration come about, you ask?
"After meeting each other on an online message board in 2009, Kuroisoul & Kinetik began collaborating through e-mail and the power of the internet. What followed were a series of collaborations that hinted at an intangible musical kinship that was begging to be explored further. Fast forward to September 2012; Kinetik is invited from London to California for two weeks to begin working with Kuroisoul in person on Bass & Format's first official release. The subsequent studio sessions ended in a 10 track album called Hip Hop Is Forever; a loving ode to the music and culture that initially linked the two together. Kuroisoul's beats epitomize the sun soaked sandy shores of his native Californian environment whilst Kinetik's rhymes reflect the cold, gritty, concrete cased landscapes of London."
One full-length track is available for your consumtion. This is "People Don't Understand" and features Tone Richardson:
1 producer, and 1 MC (though Kuroisoul makes his debut on the mic too), the album aims to "stake a claim in Hip Hop history". The album is released on Bass&Format, on Monday 3rd June 2013. Snippets are available for consumption here. Definitely go and peep them! (Particularly California Nights, Boom Bap Babies and Dead Rappers). If you like what you hear, go cop the album here.
---
---