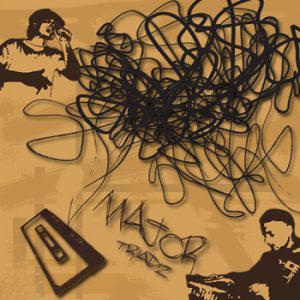 Major Triadz are a duo based in mid-Wales. They've been around for a couple of years but this is the first time we've featured them here. That's going to change! I'm writing this with their debut LP playing in the background. At 14 tracks, I've already heard quality turntablism, varied beats, and solid, clear-cut lyrics. All this comes courtesy of MixmasterMillz, the turntablist and editor (obviously!), and Hobaps on lyrics and production.
Be sure to check out their debut self-titled album, it's well worth it.
For a look at the latest tracks, check out Major Triadz' Soundcloud.
Major Triadz have been doing their thing, as their press release shows us:
"Forming around 2 years ago they are making a reputation as an original and necessary addition to the UK music scene. Refusing to be pigeon-holed into any specific genre their varied beats draw inspiration from genres as diverse as Hip-Hop, Dub, Breaks and Country.
Recent shows include The Rare One, Nozstock, Beach Break Live, Burning Ginger man, Sub 29 (Cardiff), Newfoundland Secret Summer Gathering, Workhouse festival, as well as shows in Bristol, Birmingham, Cardiff and Shrewsbury. Major Triadz have also enjoyed an increasing amount of airplay on BBC radio among others. Not to mention warming up for the likes of Dr Syntax & The Mouse Outfit, Roni Size, Dub Mafia and Sicknote, to name a few."
If you're feeling Major Triadz, show them some love on Facebook.
---
---