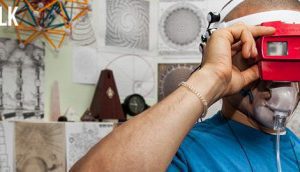 An electroencephalograph is a device used to measure electrical activity exerted by the brain. The results represent themselves on paper as spikes, waves, crescents, peaks and troughs. You can force stimuli upon an unsuspecting brain and watch as the waves rearrange themselves and dance around the screen as they react to what they like. You can observe patterns, hypothesize, measure, and explore. Your brain generates these impulses every minute you spend on this planet. They keep you alive, keep you thinking, keep you sane. Thoughts come in, thoughts go out. Waves are produced. If you were ever curious as to how these waves convert sonically, a three-track EP titled Montalk by oh-so-quiet-achiever Mowgli holds the answer.
To me, this EP, and anything with Mowgli's signature for that matter, sounds like a point-in-time draining of a brain. Like someone clicked 'Export' during one of those moments when you don't realise that you're lost in your thoughts and your brain is running on its own. Like the times when you tune out, glaring at the television but not taking anything in. It's like Mowgli has taken that specific point in time, pulled a few levers, taken those waves and generated a perfectly flowing structure. It may sound like small bites of nothings, but up close you can see structure, relevance, passion, imagery…everything a working brain needs.
I don't know exactly what he does or how he does it, but Mowgli holds the workings to a formula that transcends what you or I are accustomed to. Boundaries between spoken-word poetry, hip hop, music, emotion, knowledge and experience are slammed together and twisted into a shape that I fail to recognise. It's original, fresh and very interesting.
You need to isolate yourself for the proper immersion. Find 12 minutes to shut everything out and just listen. Listen to the enveloping soundscape. The hidden pops and ticks. The submerged bass notes. The spaces between words. Cadence. Choose. Condense. Each track is related and forms a combined package. Each bar is layered with meaning. It only takes 12 minutes to journey from beginning to end, but it may take hours to decipher.
We love lyrics here at HHIE (obviously), so this sort of music really grabs our attention. You may not get the same experience out of it that we did, but if you're into something with that extra layer of depth, then by all means jump on this when it is released. The album isn't out yet, but keep an eye on this link for more information about it's release date. Below is the press release and, of course, make sure to check back here to clock the lyrics!
---
---