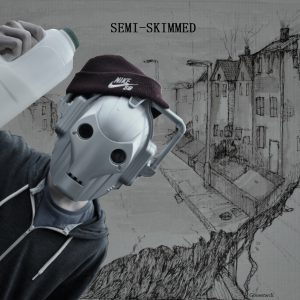 17 year old Ross Sinclair is no stranger to the hip hop game. Semi-skimmed, the mixtape, is his second of three offerings pumped out in the last 6 months. Featuring big samples and big chop beats, he systematically ticks all the mixtape boxes. 'I'm alright' fuses Wu-Tang's C.R.E.A.M. with a whole host of old favourites. Followed swiftly by a complete homebrew concoction in 'Overdrive'. 'Neckbrace' harks back to the grimier days of mixtape production. My personal favourite has to be, 'It's been a long time' – the beat bangs and the sample chopping is wondrous.
So the production's good, what about the lyrics? Like the man says, he is half the age of them other man out there and he is clearly putting in the hard graft. The 'Spookfest Freestyle' sees Ross go in on a big beat, outline his influences and smash some stuff all around your ears. I get the sense that he is, like most others, trying to take the bitches and bling out of chart hip-hop. Unafraid to go at the heavyweights dominating the domestic charts, he hits out at them in a truly bedroom British style. In places the mixtape becomes a Jazz instrumental, layering track upon track and sample upon sample to create a fresh and unique piece…all with the vocal samples built in – his production fingerprint. Check his production here…
Here's the title track from the album. This shows Ross' surroundings, gives you an insight into his mind, and how much he cares for what he does.
https://www.youtube.com/watch?v=anquZh-0kts
Artistically, Ross is on point but he is still green. His drive and direction make him clearly one to watch in the future. The thing is, compared his peers he still needs to work on it. Benaddict, for example, killed it from day one… even after his recent release. This aside, both he and Ben are setting the bar high for any new, young MCs and this mixtape is one to bang during these post nuclear winter days – and it's free so do it.
Peace, VF.
---
---