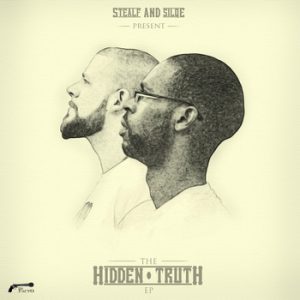 Producer Stealf and rapper Silqe bring us The Hidden E.P. on De Facto Entertainment. This 8 track E.P. was release on 20th November 2012, so our review comes a little late. No matter, because this release is a tight affair, well put together in terms of beats and vocals. Producer Stealf clearly knows his way around beats, and his range of samples fit with the themes of each track. Silqe's verses ride the boom bap rhythms, snares and pure Hip Hop beats.
The E.P. opens with "The Preface" featuring piano keys and catchy lyrics.

I'm just being me, so if the way I live seems a little crazy, please don't blame me – I'm just being me. You need to go speak to whoever made me.
The title track is a beast: straight up boom bap linked with some sexy horns and strings, and a choral ethereal sample. Silqe does the beat justice, and it's easy to hear why this is the title track. Whilst this track stands out, it is also a standard for the rest of the E.P.

Another favourite of ours is "My Life" featuring Macca. This one rocks a euphoric rhythm whilst the words offer a soulful insight into Silqe's life. Unmistakeably UK style, this is how homegrown Hip Hop should be made. Guarantee you won't play this one just once!
We'll be bringing you more from De Facto Ent. pretty soon, but make sure to grab The Hidden Truth E.P. now. As always, you can listen through below:
---
---