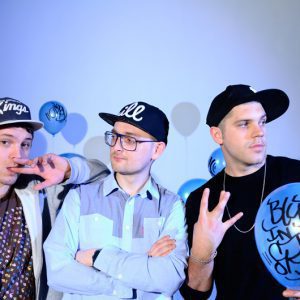 Check this new video from Verbal Contact featuring American Left Leberra. High vibes on a nice beat and some epic pupppet action in the video!

Here's the Press Release for the track too. A nice addition to the video and track, giving the work a completed feel. Let us know your views by rating this track below, or leaving a comment.
'Get Stoned' is the new video from West Yorkshire, UK hip-hop collective Verbal Contact and is another zoned out banger produced by Sonar Cousin and features a mellowed out verse from up-and-coming Connecticut, USA rapper Left Leberra which provides the perfect contrast to Matter and Prys' tonguetwisting flows.
The unique visual sees VT and Left Leberra channelled by puppets created by William Child and Sam Aminzadeh and follows the Verbal Contact boys from smoking out in a trashed living room to eventually heading out to their show, whilst Left Leberra lays his verse in a studio smoking a blunt.
Whilst 'weed rap' is far from a new concept, it is shown here to be a great unifier, something that a duo from Leeds and a guy from New Haven can connect on easily, breathing new life into the art of the weed track.
The track will appear on Verbal Contact's upcoming album Blue In The Face which is set to drop in September on Don't Talk To Strangers Records.
"We like making videos that have a twist to them, we try to avoid played out concepts where we can, and that's exactly what we've done for 'Get Stoned'."
Matter
"This crew aren't close minded and do whatever it take to make good music."
Certified Banger
---
---