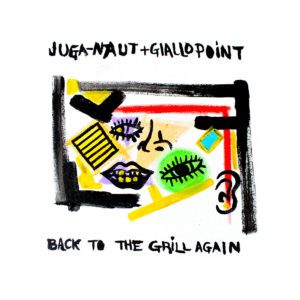 This album is best listened to on MINI-DISC in Nottingham, wearing Air Max Uptempo's while going to watch Space Jam the day it dropped at the Odeon 1997.
Back To The Grill Again' is the combined effort of two of the UK's leading Hip-Hop artists. With production by Giallo Point and rhymes by Juga-Naut, this album is an electric journey through good times, culture, emotions, food, flyness, family and fortune.
This is Juga-Naut's most mature work to date, lyrically excelling over Giallo's smooth beats. It is an interplay of summertime evoking, Fender Rhodes-filled production, golden era classic bangers, eloquent intricate wordplay and catchy choruses.
'Back To The Grill Again' is an album you will return to time and time again, taking you back to the essence of Hip-Hop without leaving you in the past. This masterpiece of modern Hip-Hop is evidence that the essence of this globally influential culture is still well and truly alive. 'Back to the Grill Again' also features the legendary Milano Constantine, Scorzayzee, SmooVth, Napoleon Da Legend, Vandal Savage, and Sonnyjim.
Over the past five years both Jugz and Giallo have accumulated genuine momentum worldwide with a plethora of consistently stellar releases. Jugz has self released numerous albums both solo and as a member of supergroup VVV (with Cappo & Vandal Savage). He has played major U.K. stages, supporting Hip-Hop royalty such as Rakim, Big Daddy Kane, KRS-ONE, Ghostface Killah, and more. Giallo has produced for artists including the likes of SmooVth, Hus Kingpin, Planet Asia, Big Twinz, Roc Marciano, and is a DMC World DJ finalist. He works closely with Crate Divizion and is known for his hard, gritty, smooth and intricate beats since 2004.
---
---
VIDEOS
:(
We don't have any videos.
LYRICS
:(
We don't have any lyrics from this album.
NEWS
:(
We don't have any news related to this album.