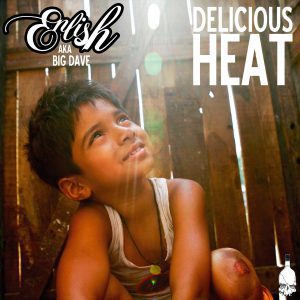 Following up from the success of his 'wood in the hood' certified debut LP 'Cold Lazarus' (2011), Enlish is looking to go 'coal in the cul-de-sac' with his new mixtape offering, 'Delicious Heat'.
Spread over 15 tracks, Enlish covers a wide range of topics utilising his own unique blend of introspection, wit, wordplay, punch lines and self deprecating humour. Featuring a number of obscure beats created by a variety of acclaimed producers, this project is a showcase of Big Dave's own unique brand of RNB – Rap N' Bullshit. Far from being just another throwaway collection of rap songs, 'Delicious Heat' serves as a prelude to Big Dave's forthcoming sophomore LP release 'Slumdog Hundredaire'.
The next offering in a string of releases from Brighton based label Rumbustious Records, 'Delicious Heat' provides enough humidity to melt an igloo from 3000 miles away. Imagine Frodo and Sam, finally free of the burden of The One Ring, lying on the barren slopes of Mount Doom; writhing in pain, waiting for the blessed relief of death from the dehydration, heat exhaustion and third degree burns produced by the searing heat of the volcanic magma erupting all around them. Then picture them in exactly the same situation, headphones in ears, FUBU shell suits completely melted onto the skin of their diminutive frames.
---
---
VIDEOS
:(
We don't have any videos.
LYRICS
:(
We don't have any lyrics from this album.
NEWS
:(
We don't have any news related to this album.