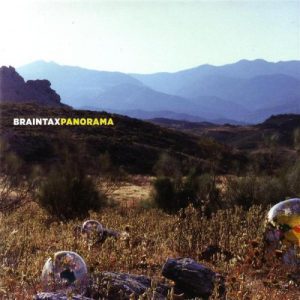 Braintax's second album from 2006.
Extract from the BBC:
'Panorama' is very much an album of our troubled times. Al-Jazeera, the environment, refugees and Blair are all packed into its rhymes. Middle Eastern flavours weave and waft through the production, with political images cutting through; "Oil men, tugging on puppet strings, and the news is skewed, it's a load of spin".
Braintax is a grown-up and despite the fact that he's heavy on critique and low on answers, he looks at our world (hence the title) beyond bling and birds – and that's not to be under-estimated in today's Rap scene. The political depth of the lyrics is 'Panorama's' USP.
And the delivery? Brains can flow, he's got strong feelings and words, but the voice is a little wanting in melody and resonance. When Dubbledge contributes a verse to the Visage sampling 'Anti-Grey', it highlights what's missing from the main protagonist!
The sound is solid, if not inspiring. Beat Butcha of Halal Beats and singer Sammy Jay come through with a feel-good opening track, 'All I Need', there's raw percussion on 'Good or Bad' and catchy music from Raw Dog in 'Syriana Style'.
Sadly absent are some stand-out, grab-you-by-the-heart (or balls) beats. Despite some choice soulful funk sounds it's missing the edge of a producer like Baby J (who can pick a perfect hook from 100 paces) or the fresh force of a track like Wiley's 'Gangstas'. You can't help but feel some of UK's freshest sounds are still coming out of the Grime scene, a situation underlined by the fact that three out of the five nominated for the UK trophy in America's BET Hip Hop Awards are from that background.
---
---
VIDEOS

Braintax – Syriana Style
LYRICS
:(
We don't have any lyrics from this album.
NEWS
:(
We don't have any news related to this album.