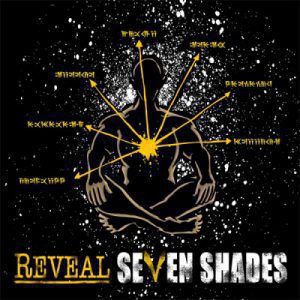 In Reveal's words: "This release is an experimental musical project, this is what happens when I don't try to edit myself, this is really whats in the deep, dark depths of my mind. The concept of 7's being a significant number was something that I came across while I was studying Religions and it kept coming up in other areas. I learnt that we perceive the world through 7 colours or shades. Our eyes see in 3 primary colours, 3 secondary colours and White, so 7 in total. With these mix of 7 colours, our eyes are able to mix and blend the shades to make the wide range that we see with our eyes. Our bodies cells regenerate every 7 years, our hair, skin etc. So the 7 also represents change. I wrote down 7 "shades" or elements that I felt made up my music and they were: Darkness, Infinity, Terror, Change, Truth, Survival, and Freedom.
The idea started from there, when I was researching all of these things and originally came up with the idea, I also realized that it had been 7 years since my father had passed away. He was a Journalist who was killed when he stepped on a landmine while working as a cameraman in Kurdistan. I decided to start recording based on the vibe I had at the time. The result was "Seven Shades" the EP."
The EP is 7 tracks of original Hip-Hop produced by Iranian Hip-Hop producer, film score composer and Cannes Film Festival Special Jury Award winner Mahdyar Aghajani. It is not your average Hip-Hop release, whether it is the furious face paced anger and fury of "Alone", the chilling, laid back realism of "West London" or the touching, vivid and cinematic tragedy of "Malika (Lost Ones)", each track is a world apart and yet connected. The sonic soundscape created by Mahdyar is a rich tapestry of eclectic musical vibes, mixing a vast array of instruments and production techniques, mixing Hip-Hop, classical Persian music and even using Didgeridoo on one track! However Reveal is keen to stress that the project is "not some happy hippy, lets all hold hands and sing Kumbaya, kind of project, its about real life, MY real life. And first and foremost , I'm a Hardcore MC so I just do what I do normally but with a twist".
---
---
VIDEOS
:(
We don't have any videos.
LYRICS
:(
We don't have any lyrics from this album.
NEWS
:(
We don't have any news related to this album.