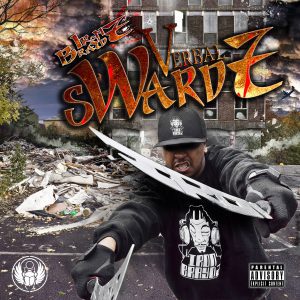 The new 10 track EP "Verbal sWARdz" has been a while in the making but is planned as the first of a series of releases taking place over the next year. Again largely self produced with further contributions from Ringz of Saturn, Agor and Daniel Taylor, Braydz' rhyme skills throughout are of the highest caliber. Metaphors, wordplay, verbal dexterity, they're all there in abundance ably assisted on occasion by features from Prince Po (Organised Konfusion), Kyza, Skriblah, Sean Price (Boot Camp Clik) and Triple Darkness' Ray Vendetta, Cyrus Malachi and Solar Black (aka Phoenix da Icefire). Worthy of note also is the special appearance from Kiss FM's DJ Shortee Blitz
An artist equally at home in Brent or Brooklyn, the EP represents a snapshot of Iron Braydz now and of things to come while having his extended international family rub shoulders over 10 prime cuts representing the best elements of hip hop music.
– Iron Braydz' Bandcamp.
---
---
VIDEOS
:(
We don't have any videos.
LYRICS
:(
We don't have any lyrics from this album.
NEWS
:(
We don't have any news related to this album.