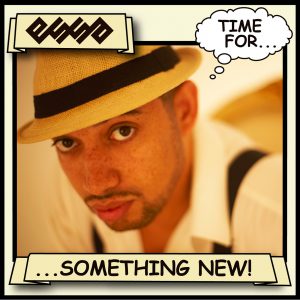 The man formerly known as Yungun, is now operating under the name Essa. (Well, he isn't such a Yungun any more!) Though his name might have changed, his recognisable addictive flow has not. We don't mean that in a bad way at all. It's a perfect mix of the Yungun you know to the Essa you're gonna rock out just as much to.
The new E.P. weighs in at 5 tracks long, which some might argue is too short when the last time we were delivered "real" Essa was back in 2006, when he and Mr. Thing released Grown Man Business (though more recently, we did get the FRMX E.P. and the Jack The World mixtape). But we wouldn't agree with that opinion. Since we were lucky enough to get to listen early, we thought we'd give you a bit of an idea of what to expect.
The E.P. features a range of sounds, from laidback beats on "A Walk In The Park", and the upbeat get-you-moving opener "Something New". The main reason for this range of sounds is the mix of producers and collaborators. Added to that is that you may not recognise some of the names (we didn't). Those who participated were: Simbad (Gilles Peterson Worldwide Family), Waajeed / Jeedo (Slum Village / Platinum Pied Pipers), Finn Peters (Bansuri / Accidental Records), plus UK Hip-Hop legend Skinny Man and Wu-Tang Clan's Inspectah Deck.
Of course, a name that jumped up and slapped you right across your face was Skinnyman. Legendary status reincarnated. Skinnyman lets rip on Track 3 "Let's Start Living", with an unfathomably catchy chorus, paving the way for Essa to deliver some very solid verses. The track also features Inspectah Deck who paints marvels on his verse, and the track ends up a satisfying, energising anthem.
We'll leave the track specifics there – we're only here to give you a taster – but this release indicates there's more to follow. We certainly hope so.
Check out the Snippets Sampler on Soundloud: http://soundcloud.com/firstwordrecords/essa-time-for-something-new-ep
And if you're feeling what you hear, definitely hop over to iTunes to get your pre-order in.
It's worth mentioning too that the E.P. will be release on First Word Records. You can get more from them on the Soundcloud link above, or check out their website.
Lastly, we wouldn't be HHIE if we didn't give you a tiny taster of lyrics (we'll post up full tracks after it's out):
"I don't shake hands with fake mans with cold faces, I'm trying to make plans to go places - all we need in this wasteland's an oasis."
"Sometimes life was sweet, like life's a beach, other times it was life's a *beep*, and when life was deep I needed light relief."

Let us know what you think below.
---
---