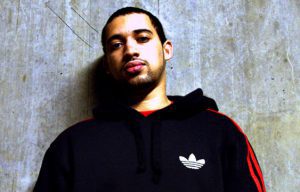 Yungun (YG/Essa) has not had your classic rap past. Born in a leafy suburb and educated at one of the most prestigious UK schools, Essa became a city lawyer. But somewhere along the path, he found the time to cement his name into the pavement of UK Hip Hop classics, offering up countless party bangers, soulful numbers, love songs and conscious social commentary through his mic skills.
In his earlier days while working as a host and MC on pirate radio station Parlay in Harrow during the mid 1990s, he formed Dupa Styles with emcee Devise. From there, Yungun formed alliances with DJ Harry Love, who became Dupa Styles' DJ/Producer. Yungun started to form a solo career, working closely with great friend and long time collaborator Mr Thing. He also rapped with/for Evil Ed, Doc Brown, Skinnyman and Jehst, to name just a few UK emcees.
His solo albums (both made with Mr Thing) were instant classics, showcasing Yungun's ample talent.
Yungun is still writing, creating and peforming and is currently releasing material on his FRMX project.
---
---