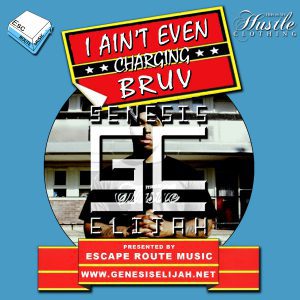 Genesis Elijah released the second installment of free E.P.s in the "I Ain't Even Charging Bruv" series. The title tells all. Nice bit of free music! Gen brings his typical effortless flow on top of varied beats.
The "I AIn't Even Charging Bruv" series will be culminating in an album of the same title, set to be available from early 2013. We'll keep you posted.
PRESS RELEASE:
The UK's hardest working artist is back with a new EP
After the success of his last EP 'Painkillers & Pilkington' championed by Ricky Gerviais, Genesis Elijah is back and this time he's drafted in some of the UK's musical heavy hitters. With production from Nutty P, Sibling Jointz, Teeza and more this project also has guest appearances from Dream Mclean, Swiss of So Solid and MTV unsigned 2012 winner Context.
Fresh off his 11 date UK tour where he performed along side artist such as English Frank, Klashnekoff, Mic Righteous, Snow Goons and more Genesis Elijah gives us a taste of what to expect on his forthcoming album 'I Ain't Even Started Bruv' which is set for an early 2013 release.
The first video from the EP Underground King has the underground Hip-Hop scene buzzing with it's hardcore sound and moody visuals.
This EP continues to prove why Genesis Elijah is one of the most respected and consistent artists in the scene. Enjoy
---
---