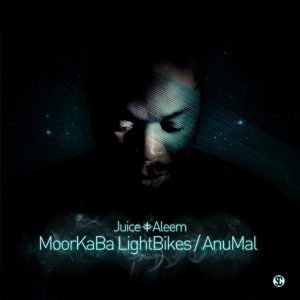 If you've never clocked Juice Aleem, take a second and read a bit about him here, in order to realise the guy's background. Juice is signed to Big Dada Records (backed by Ninja Tune), and was on the label's first ever release, "Misanthropic" along with Luke Vibert back in 1997. (EDIT: Juice is now signed to Spinning Compass Records) Since then, Juice has worked with artists such as Coldcut, Hexstatic, Evil 9, Adam Freeland, Mike Ladd and Si Begg, as well as a member of New Flesh and Gamma.
Juice has released the MoorKaBa LightBikes / AnuMal E.P. ahead of forthcoming album VooduStarChild. The lead track MoorKaBa LightBikes was produced by Roots Manuva. The B-Side track was produced by the Bay Area's Neurotic Nate. Here's the Press Release for more detailed information on those who collaborated on this release:
Produced by Roots Manuva in the stratosphere (literally on a plane journey), MoorKaba LightBikes is fellow luminary Juice Aleem's first beam-me-up-Scotty from forthcoming album VooduStarChild. Backup on this double-single is provided by thumping intelligent-trap-rap AnuMal, produced by the Bay Area's Neurotic Nate. Remixes by the cosmic dub of Ebu Blackitude (critically acclaimed producer on Juice's previous LP Jerusalaam Come) and industrial mash-out funk by the Iguana Man Kashmere (Hip-Hop anti-hero) himself, fill out the roster of this much needed first lazer head shot.
There is a mad video out for MoorKaBa LightBikes, on a stellar theme packed with mental visuals. A lot of effort has clearly gone into the track and video to create an entirely quality product.
Pressing the play button below will result in much carnage. Guaranteed. You might pop your booty, shake your hips, move your feet, whatever. Beat and words combined will produce some serious skanking. You were warned.
https://www.youtube.com/watch?v=92YwEzTHQyc
The second verse is our favourite, particularly because of the mix of Spanish in line with high-speed spitting.
The whole deal can be grabbed from iTunes UK (or here if you stumbled by from across the pond). We've included the tracklist below so you can see what you're getting.
TRACK LIST:
1. MoorKaBa LightBikes [produced by Roots Manuva]
2. AnuMal [produced by Neurotic Nate]
3. MoorKaBa LightBikes – Shadowless Remix [produced by Ebu Blackitude]
4. AnuMal – Person A Remix [produced by Kashmere the Iguana Man]
5. MoorKaBa LightBikes Acapella
6. AnuMal Acapella
---
---