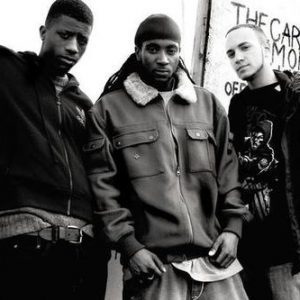 EDUCATED GUESTS PRESENT THE NIGHT SCHOOL SESSIONS
A brand new night will be taking place at Brixton Jamm (Brixton, London) entitled "The Night School Sessions". The first installment will feature Triple Darkness as the headline act.


But hold the press! There's more. Alongside Triple Darkness you can also see Demorus (Baileys Brown and Datkid from Split Prophets), K9 (of Frenglish Connexion) and Union Blak (who are New Jersey rapper Kimba and DJ/producer Sir Williams).
We've included way more information below, but the important bits are these:
Date: Friday 29th March
Venue: Brixton Jamm, 261 Brixton Rd, London, SW9 6LH
Time: 7pm – 11pm
Tickets: Here at WeGotTickets.
If you didn't clock Triple Darkness' 2008 album "Anathema", check it out now. Triple Darkness now sport 11 members (compared to the three that brought you Anathema: Nasheron, Cyrus Malachi and Melanin 9). They are Cyrus Malachi, M9 aka Melanin 9, Crown Nectar aka Nasheron, Iron Braydz, Phoenix da Icefire, Ray Vendetta, Black Prophet, Blasphemy, Tesla's Ghost, Ringz of Saturn and Anatomy.
Peep a sick track from the album:
Here are the two flyers for the night. Feel free to share them around.


Let us know in the comments below if you're attending.
---
---