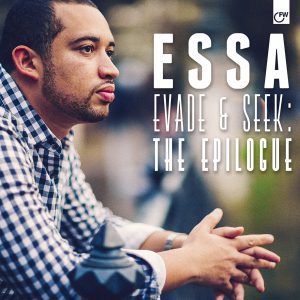 'Evade & Seek: the EPilogue' is the companion EP to Essa's recent album 'The Misadventures Of A Middle Man'. Featuring two all-new tracks plus alternate versions of some favourites from the album, it reminds us why Essa is one of the UK's most versatile MCs.
'LeLeLe' is a club-ready, punchline-heavy beast produced by Flako. The sparse, bass-fuelled beat is the perfect backdrop for Kashmere (Strange U) and Essa's flawless bars. 'Evade & Seek' is produced by Tall Black Guy (with a little help from UK legend Kaidi Tatham of Bugz in the Attic) with Essa and rising star Brotherman capturing the essence of London life. On 'Still Life' Essa and Devise take inspiration from the world passing by their window in a poignant, poetic snapshot of everyday life.
The EP is rounded out with two live versions of favourites from the album. 'Harder', from the album launch show at The Jazz Cafe and an acoustic version of 'The Middle Man' from an intimate set at the fast-rising pop-up event Sofar Sounds.
---
---
VIDEOS
:(
We don't have any videos.
LYRICS
:(
We don't have any lyrics from this album.
NEWS
:(
We don't have any news related to this album.