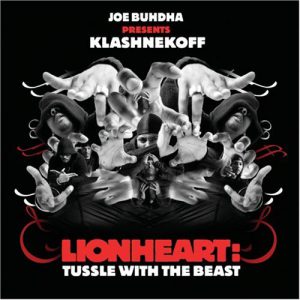 Lionheart: Tussle with the Beast is the hotly anticipated collaboration between rising UK stars, rapper Klashnekoff, and producer Joe Buhdha. The duo mix up the styles to produce a startlingly good album where straight-up classic hip hop stands shoulder to shoulder with some potential crossover gems.
For the hip hop faithful the all-synthed-up and sirens blaring "Terrorize the City" will get the juices flowing, with K-lash ably aided and abetted by Kool G Rap and previous accomplice Kyza. The drum-driven claustrophobic brilliance of "Two Guns Blazing" is similarly heavyweight. For those mainstream folk attracted by the rave reviews, the roll and swagger of opener "The Revolution" will draw them in while sucker punching them with such powerful lyrics as: 'Even after Stephen's blood stained the pavement, it still seems we are stuck in the same trench'. In "Refuse to Die", K-lash's roots are on display as he lays tight rapping over a loping reggae tune. At its centre is a beautiful, woozily sung chorus of 'Raised in the Ghetto'. Possibly the only low point is the syrupy production of "Question", with one sax break too many. But even here the message still rings true with K-lash thumbing his nose at fellow rappers 'driven by addiction and urges'.
In between, "My Life", "Rest Of Our Lives", and closer "Make Ps" display the socially conscious lyricism that makes Klashnekoff stand out from the crowd. He's unafraid to tackle tough subjects and much of his commentary is deeply relevant to the current situation in South London. On this album you are not just getting to hear great music but also a powerful and authentic voice from the UK streets. Let's hope it's heard far and wide. –James Young, BBC
---
---
VIDEOS
:(
We don't have any videos.
LYRICS
:(
We don't have any lyrics from this album.
NEWS
:(
We don't have any news related to this album.