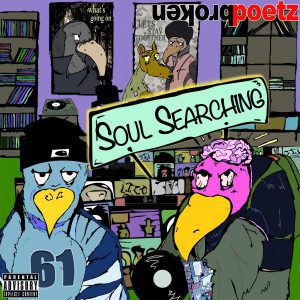 Soul Searching' is released on KBTZ Recordings and has been a full 2 years in the making. The album is undoubtedly Broken Poetz finest work to date, and once again they serve up the sort of deep, soulful, easy listening style of hiphop that makes them fairly unique in the scene.
The album features an array of rapping talent such as Twizzy (3 Headed Beast), Upfront MC (Split Prophets) and Cutta Chase, and also the bluesy overtones of CW Jones. Working with established producers such as Hozay, Runone & Molotov (High Focus) and Jabbathakut, who are known for their soulful productions, has given the album a real sense of cohesion and a defined brand. This is soul music with a modern twist, or alternatively a hiphop album that offers a nostalgic look back to the golden age of soul music. Either way, this is real, honest music with a message!
---
---
VIDEOS

Broken Poetz – Made Up My Mind
LYRICS
:(
We don't have any lyrics from this album.
NEWS
:(
We don't have any news related to this album.