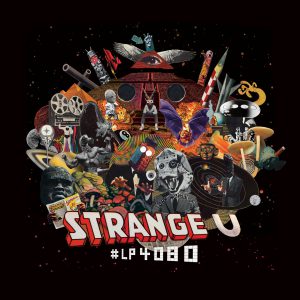 We are truly living in strange times. Our reality is snowballing into a dystopian nightmare with all powerful pig headed political figures pulling the rest of the world towards oblivion. Headlines read like chapters from the darkest of Orwellian fantasies and our world is starting to resemble the bleakest of premonitions put forward by the most 'out there' science fiction writers. To say the least, things are going a bit strange.
Few artists have managed to capture and reflect the current sate of affairs as well as new High Focus Records signings Strange U have with their debut album '#LP4080'. Perhaps one the most unique acts to hit the hip hop scene; bringing a truly fresh take on a subject matter lesser rappers have toiled with for years. Rapper King Kashmere and producer Zygote (aka The Maghreban) blend a careful mixture of social commentary and experimental excellence over left of centre rhythms sent from the mother ship whilst staying 100% Hip Hop throughout as the album title would suggest – a reference to the famous Tribe Called Quest Industry Rule.
But don't get it twisted, it isn't all doom & gloom. The album takes the listener to many different dimensions whilst maintaining a signature cohesiveness. From politics on "Mr Kill", a pastiche of the modern rap game on "Shots" to the other worldly Sci-Fi of "Cimmerian Shade" and the self deprecating wit of "Waste of Space".
Overall, the duo aim to make music that bangs and that takes you elsewhere. Maybe it harks back some of the references they connected over, perhaps when hip hop acts had more character. More Goofball. More Experimental. More Gonzo.
---
---
VIDEOS
LYRICS
:(
We don't have any lyrics from this album.
NEWS
:(
We don't have any news related to this album.