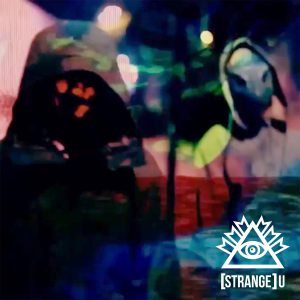 Strange U is a collaboration between two Hip Hop veterans, King Kashmere and Zygote (aka The Maghreban). A firm favourite amongst fans of UK Hip Hop, King Kashmere sprung to prominence with the joint LP with Verb T "Backhand Slap Talk/Technical Illness" which was released on the iconic Low Life Records in 2004. This was followed up by a few more critically acclaimed LPs on YNR, Receptor Records and Boot Records. Prior to reaching mastermind status in the Hip Hop production game, Zygote started off releasing Jungle in 1994. More recently, he's making dusty sample based House music as "The Maghreban". Zygote's rich musical palette is a mix of all the above and proves to be one of the most versatile producers currently on the circuit which is perfectly demonstrated on the '#LP4080'.
Kashmere, an already established name & highly respected veteran, took a step back from the rap game in 2010, only to return stronger than ever with a brand new style and writing technique 2 years later. Zygote, had undergone a similar metamorphosis expanding his creative palette to undiscovered territory. The pair had worked together in the past and re-connected over their shared appreciation of Company Flow, Kool Keith and other 90s outfits as well as their distaste for today's bland cough mixture speech impediment rap. during this pinnacle moment in time the Strange Universe was born! After a couple of false starts with some well regarded labels, they started working on their debut album. The name "#LP4080" started to fit, a reference to the famous Tribe Called Quest Industry Rule.
It then became apparent that there was only one fitting home for their album, High Focus Records, the pair appreciated the label's DIY attitude, and the movement associated with it.
High Focus Records is proud to present '#LP4080' the highly anticipated debut album from Strange U released on the 10th of February 2017 on limited edition vinyl, CD, limited edition cassette and digital.
---
---
VIDEOS
LYRICS
:(
We don't have any lyrics by this artist.
NEWS
:(
We don't have any news related to this artist.