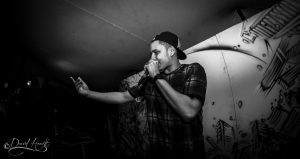 Born in Camden, now residing in Brighton, 21 year old MC Ocean Wisdom is the new kid everyone is talking about. His underground smash "Walkin' – Produced by Dirty Dike has propelled him from being one of the many up and coming MC's in the country, to being one of the most exciting prospects at the forefront of a booming Hip Hop scene.
Having gathered well over 600,000 views on his own, off the strength of one song, "Walkin' spread through the internet like wildfire, leaving everyone with one question on their minds -"Who is Ocean Wisdom?" – 'This kid's a problem!'
Since setting the scene ablaze with 'Walkin', Ocean has toured up and down the country with The Four Owls, performed at Reading and Leeds Festival alongside Dirty Dike, supported legends such as the Foreign Beggars and Mike Skinner as well as playing festivals such as Boom Bap, Boomtown Fair & The Great Escape Festival.
---
---
LYRICS
:(
We don't have any lyrics by this artist.
NEWS
:(
We don't have any news related to this artist.