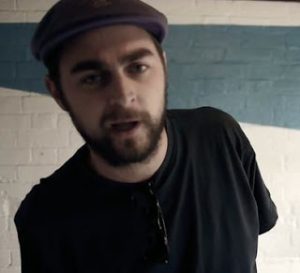 From the age of 15 Oliver Sudden was rhyming on garage on He's sisters karaoke
machine, he used to make tapes with he's pals from school on weekends but didn't take it too seriously. When he started college his knowledge of Hip Hop began to grow
and so did his rhyme skills. After being at nearly every open mic at Deal Real Records (R.I.P)
in Carnaby street he started to build he's style and practice he's art regularly with some of U. K's veterans in the Crowd watching, making him super nervous! But constant microphone torture got him into S.I.N Army a collective of all the crews from Deal Real, Speakers' Corner and other events. At the time recording tracks with Jon Pathan now a big House Producer, and Jetricks
also now doing very well with his production.
During these years he was representing The Living Dead, a group of Croydon M.c's
who Brought back the horror-core.. other members were Indrid Kold, Chad Powerz,
LoveCraft, and a few others were involved.
When he turned 18 he would go to The Black Sheep in Croydon for pound a pint night
on Tuesdays, where the DJ would play Funk, Soul and Hip Hop all night, good times..
Oliver's sister introduced him to the DJ which was Blue Movies known at the time as DJ Mek, they got chatting and a couple of weeks later he called Oliver over and played him a beat he made that he wanted some rhymes on.
In August 2008 he released a Compilation called "The Slog" which was the first product he was 100% happy with. Produced By Blue Movies, and Deft. The first video for "Keep Smiling" From The Slog was out in early 2009.
"The Vintage Fly E.P" produced by The Lazy Technician came out in May 2009, a 7 track mix of hard hitting boom bap along with some B-boy breaks freshly chopped and bashed out in the M.P.C.
During 2009 there was a circle of B-Boys at Black Sheep Bar every Saturday. Oliver would go down and see that sometimes there was no DJ.. just an Ipod play list or a CD playing. As he had been collecting records for a number of years he thought he should have a go at spinning for the B-Boys, and so his DJ career began. Since then Oliver has been playing in a number of High Profile venues and Festivals around London and the U.K.
It has been said that Oliver Sudden created the scene in Croydon, linking all artists as one under the crew Croydon Council, sharing links and booking local talented people for any gigs he could get.
Managing projects for Venomus Vocalz and linking the crew and other artists with M. C.s, Promoters, Producers, and good people to know from all over. A known hard worker making things happen for himself and his people, that should be recognised as a key figure U.K Hip Hop.
Often thought of as just a DJ, promoter or manager he is without doubt one of the most skilled MC's adapting to all tempos and styles, definitely underrated and slept on by too many.
---
---