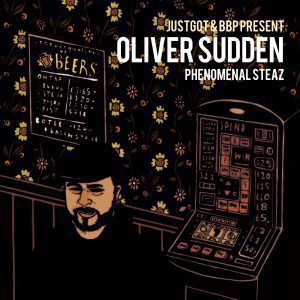 BBP (Boom Bap Professionals) have released a new album by Oliver Sudden. A 14-track free-to-download release featuring a whole range of producers including The Lazy Technician (who you may remember from his and Oliver's "The Vintage Fly E.P. back in 2009). More recently, you probably heard Oliver Sudden on the (BBP) release Kill The Noise – Kill The Noise.

Check out an interview with Oliver Sudden here.
PRESS RELEASE:
Boom Bap Professionals in association with Just Got present…. Oliver Sudden – 'Phenomenal Steaz' LP…
Featuring production from Mr Blue Movies, Hermit The Slob, 2Late, The Lazy Technician, Oliver Sudden, Mr Gats, Purpose, Ill Move Sporadic, Jonny Drop and Jack Diggs and guest features from DJ X-Kutz on the hard hitting opening track "The Method", Chad Powerz on the lyrically intense "Not Tonight", Majestic & Sinar-Matic on Oliver's self-produced "Council Clan" and Jack Diggs & The Strange Neighbour on the trade up banger "Six For Fivers".
The release also features a Bonus track: the "Come Correct Garden Gnome Live Mix" featuring Matt Summerfield (Mr Gats) on Bass Guitar, Ross Clark on drums and James O'Keefe (J.OK) on Guitar. A taste of the Live Band sound that Oliver has been working on over the years. You can check out Oliver's Garden Gnome session video here.
The mixed bag of styles ranging from the 'funky sound' to the 'dark gutter screwface hip hop' shows not only Oliver's diversity as an emcee but his skill at rocking over a range of styles whilst maintaining and preserving the true essence of rap music throughout.
---
---