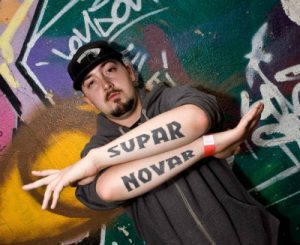 Supar Novar is a well-known UKHH artist from North London. He was first introduced to the scene by way of his crew F.L.I.P with the help of local Hip-Hop legend Skinnyman. In 1999 a support slot for Skinnyman's group 'The Mud Family' lead to Novar becoming a member of the group and touring the UK with them at the age of sixteen. From there, he paved his way down the solo path, releasing records on Kemet Ents. Records. To date, he has 3 albums under his belt, a number of mixtapes, and several singles too. He has featured on countless other tracks and mixtapes, notably featuring on Foreign Beggars' Asylum Speakers (Track 15: Getaway).
Supar Novar is now known as Novar
---
---
VIDEOS

Supar Novar – White Collar Hooligan
LYRICS
:(
We don't have any lyrics by this artist.
NEWS
:(
We don't have any news related to this artist.