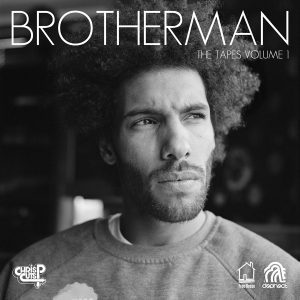 After phenomenal success with his double E.P. "The Dark / The Light" back in 2008, we are pleased to announce that Brotherman is back! He is back in force in fact. Today has seen the release of a brand new (free) single, the launch of his website, and news that a series of releases called The Tapes, will be dropping very soon. If that wasn't enough, he also demonstrates his versatility as an artist two acoustic cypher videos.
First off, the new single, produced by Smitharene and entitled "Drift Off". It's a very chilled affair with an opening hook "Let us drift off in the day, get lost in the day dream". The hook is sung, showing Brotherman's range of abilities. Soon, the rap kicks in, and Brotherman demonstrates style and ease, as his voice blends with the beat. It's vaguely reminiscent of some Yungun tracks, and the track has a polished feel, where beat complements rapper and theme and vice versa. If the Tapes feature material of even half of this quality, you'll be getting your money's worth.
Here are part 1 and 2 of the Acoustic Cypher sessions from a UK kitchen. Don't say the UK doesn't keep it real.
And finally: Though we have no set dates for the release of The Tapes Volume 1 at this moment, we can at least offer you a bit of info on each one.
Volume One will feature Brotherman on Jacked Beats.
Volume Two will be a Featured Tape with collaborations on every track.
Volume Three will be Brotherman on exclusive beats by his favourite producers right now.
Be sure we'll keep you posted on all The Tapes when we have more news. In the meantime, enjoy the music in this article and go check out Brotherman's lyrics from "The Dark / The Light".
Backup link to Bandcamp single.
---
---