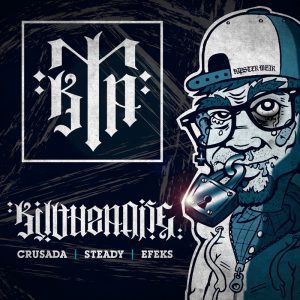 Here's the press release for an E.P. we're excited about. Prose (Steady & Efeks) have crewed up with affiliate Crusada to bring you a free E.P. We'll be providing lyrics SOON, so keep your mince pies peeled!
Kill The Noise – 'Kill The Noise EP' (BBP16)
Out Now – Free Download
ARTIST: KILL THE NOISE
TITLE: KILL THE NOISE EP (BBP16)
LABEL: BOOM BAP PROFESSIONALS
RELEASE DATE: 28TH MAY 2012
Emerging from the depths of the "Boom Bap Bunker", intent on stamping their mark on the hip hop landscape – Kill The Noise is a brand new collective, about to make seismic waves in a sea of mediocrity.
Consisting of Prose members Steady and Efeks, and West London wordsmith Crusada, this triumvirate is the culmination of years spent working on each others projects.
After several stellar collaborations including, 'The Basics', 'Meet Ya Maker', and ' The 11th Hour Massacre', the trio decided to join forces and now finally they bring you their debut, self titled EP, on the Boom Bap Professionals label.
Guided by the eponymous video, this 5 track EP, replete with instrumentals, is a veritable hip hop tour de force, and features the talents of: Kingpin (Caxton Press), Oliver Sudden, DJ Jabbathakut and DMC Champ DJ Matman.
In an age of Internet thugs and studio gangsters – Steady, Efeks and Crusada are about to follow the immortal words of EPMD and…"Kill The Noise!".
Check out the video on YouTube and grab the FREE EP at www.boombap.bandcamp.com
Peace
Keep it Boom Bap!
To request review/ promotional copies and for press/ enquiries/ bookings: [email protected]
---
---