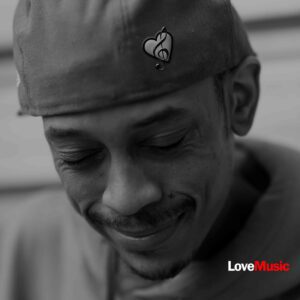 Brand new EP from UK Hiphop mainstay Ramson Badbonez and producer Konasir Beats via LOUIS DEN comes "Love Music" an intimate 6 track set covering a wide range of topical content and versatile production. Badbonez shows no slowing down on his prolific onslaught of 2020 adding to his already busy year having already dropped a full length earlier on in the year on HIGH FOCUS with the critically acclaimed "Death Mask" album.
On "Love Music" Ramson executes the tried and tested one MC one producer combo leading things off with the amazing track "Mr White" which conceptually explores the parasitic nature of racism through the lens of a medical professional; the track is both eye-opening, astute and couldn't come at a better time considering we are currently experiencing a pandemic and appear to be slowly lifting the lid on the issue at hand. "Raw Lines" which kicks the project off is a raw bravado wordplay fest which straddles on grime and trap for its soundscape and the title track "Love Music" chronicles his admiration of celebrated black musicians that make up his musical DNA.
There are no wasted words on this project and the concepts unravel thick and fast presenting many opportunities for track reloads and critique all while a unique array of beat choices cover the hip-hop spectrum. Love Music is not one to miss and fantastic addition to Ramson's already strong discography.
---
---
VIDEOS

Ramson Badbonez – Mr White
LYRICS
:(
We don't have any lyrics from this album.
NEWS
:(
We don't have any news related to this album.