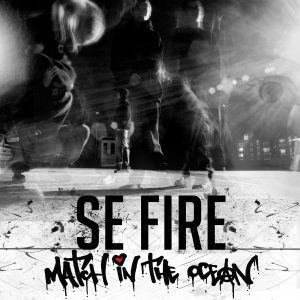 "Match In The Ocean" from SE Fire, was put together between 2001 & 2009. During this period, the group, consisting of producer/rapper Sosé, rapper Mistafire, vocalist Jamileh Lee, engineer Ollie Weeks and the turntable wizadry of DJ Snafu, supported hip-hop luminaries like The Roots and De La Soul and caused carnage at festivals up and down the UK.
With moody, atmospheric beats produced by Sosé providing the backdrop for his and Mistafire's bars to trade punches, this is an introspective, haunting collection of work that manages to avoid being self-indulgent or apologetic.
'Match In The Ocean' is an accomplished debut album, blessed with a strong non-conformist streak, both musically and in terms of content. If you like forward thinking hip-hop that never compromises its beliefs, then this is the album for you. Backed with a strong remix package featuring the talents of Kahn, Superisk, and Fused Forces, 'Match In The Ocean' is another essential purchase from the Durkle Disco stable.
---
---
VIDEOS
:(
We don't have any videos.
NEWS
:(
We don't have any news related to this album.