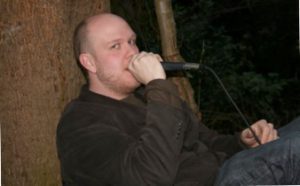 Deadline is perhaps most known for being part of Tactical Thinking, a coalition of Hip Hop musicians including Naive, Pete Cannon, Kid Genius and Derogatory. He started out as part of the now defunct CVR he was a regular face on the Birmingham hip hop scene, at one point hosting just about every hip hop night in the city with DJ Cro and Taharka.
We can expect more from him soon:
Deadline – Deadaz Is Not Dead – The Mix CD is a twenty track collection of banging hip hop tracks with a slight slip to the left produced entirely by Naïve and Mr Dick a.k.a. Pete Cannon. The CD features collaborations with the whole TT fam plus Mac Lethal (Rhyme Sayers Entertainment), Sonny Jim, Kosyne, Redbeard, Malik (MD7), Law (Underworld), Taharka, Charles Moopowe, Ranx Diggla and many more.
Me & Him – The Bad Taste Party – A collaborative effort with fellow TT member Jimmy Raygun. This release is fifteen tracks of pure booze inspired hip hop. Expect sharp battle raps, braggadocios bullshit, social commentary and tales of desperation.
The album features guest appearances from the whole TT family plus Sonny Jim, Red Beard, Kosyne, Taharka and Ralph Rip Shit. Production comes from Marco Polo (Rawkus Records), Percy Filth, Jonny Phonics, Complex, Kelakovski and of course Naïve and Mr Dick.
See more at Tactical Thinking and Pete Cannon and Deadline's Bandcamp.
---
---
VIDEOS
:(
We don't have any videos.
LYRICS
:(
We don't have any lyrics by this artist.
NEWS
:(
We don't have any news related to this artist.