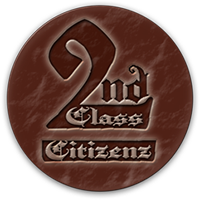 South coast hip hop group 2nd Class Citizenz are Bobby Ballz, Budge and DJ Leeboi, the rat pack of rap! Formed in 2006 starting with a cheap set of decks and a few vinyl, a group of friends all with a love and passion for music, especially hip hop, embark on their voyage into the deep, dark realms of the underground! Heavily influenced by hip hop legends such as Biggie, Nas, Chino XL, Eminem, Dr Dre, Wu-Tang etc. and UK rappers Klashnekoff, Task Force, Skinnyman and of course DJ Skully(DMC Champion) and last but not least DJ Format!
Their debut album "Not For The Faint Hearted" landed in 2013, and 2014 sees the band build connections with De Facto Ent. to release their E.P. "The Route Of All Evil".
See more at: 2nd Class Citizens.
---
---
VIDEOS

2nd Class Citizens – Devil In Disguise
LYRICS
:(
We don't have any lyrics by this artist.
NEWS
:(
We don't have any news related to this artist.