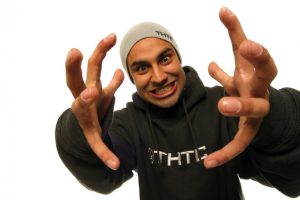 One of the emceeing force in Foreign Beggars, Orifice has been tearing up stages for many a year. Having branched a way from the Hip Hop genre, Orifice and Foreign Beggars continue to make music.
Founder of Dented Records and resident rapper on all Foreign Beggars material. Vulgatron started rhyming in 1996, then known as MC Drop. Although his passion for hip-hop was strong, he was a major part of the initial drum n bass movement in Dubai, where he was based until 1999. Upon arrival in London he launched himself into the drum n bass scene doing pirate radio spots and MCing at raves all over the country alongside Andy C, Fabio, DJ Craze, Shy FX, DJ Hype, Bad Company and Mampi Swift. With longstanding ties with Dark Circle, it wasn't long before he met the likes of Skinnyman, Taskforce, Kope, Rodney P and Focused Few and started working on taking over the hip-hop scene. His incredible flexibility as a performer means he is capable of flowing over practically any beat, and no two of his appearances on Asylum Speakers sound the same. This rugged versatility combined with experience of hosting countless raves creates a unique ability to amaze crowds live and to compliment any beat on wax.
---
---
VIDEOS
:(
We don't have any videos.
RELEASES
:(
We don't have any albums by this artist.
LYRICS
:(
We don't have any lyrics by this artist.
NEWS
:(
We don't have any news related to this artist.