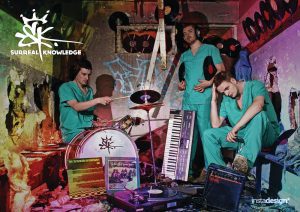 Formed in the late 20th Century, Surreal Knowledge were master practitioners of the bizarre and banging…
The Tri-Spectrum Argument Phenomenon is the only work you will ever hear from this mystery band of 3 who have all gone missing since this work was completed…
It's said that if you stand naked in the mirror and say Surreal Knowledge 3 times they will appear. Nobody has ever dared…
Or…
Hailing from Blackpool, Lancaster, Morecambe and Rome, Surreal Knowledge are a group who truly are bigger than hip hop. They fuse super polished, brain-rattling beats (Pete Cannon) with lyrics from the freshly-sharpened tongues of Derogatory, Jay Madden and Pete Cannon, add generous dollops of live bass (Dank Zappa), lead guitar (Ned) electric violin (Henry) and synth (Mr Cannon, once again), and then drizzle the whole thang with plenty of fun, and the juice of one (tedious) lemon.
---
---
VIDEOS
:(
We don't have any videos.
LYRICS
:(
We don't have any lyrics by this artist.