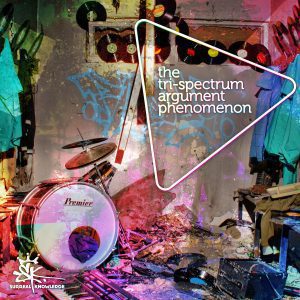 Yesterday saw the release of an album that was a complete surprise to us – we had no idea it was coming.
Here's what the blurb of the trio Surreal Knowledge tells us:

Formed in the late 20th Century, Surreal Knowledge were master practitioners of the bizarre and banging… The Tri-Spectrum Argument Phenomenon is the only work you will ever hear from this mystery band of 3 who have all gone missing since this work was completed… It's said that if you stand naked in the mirror and say Surreal Knowledge 3 times they will appear. Nobody has ever dared…
Digging deeper however reveals that Jay Madden, Pete Cannon and Derogatory are the brains and cogs of this machine.
The release features a whole range of sounds that move away from traditional hip hop beats. There's plenty of guitar, synth and electric violin. It's not difficult to feel these beats, and the emceeing carries some funkiness too – in large servings.
The release can be acquired for free, but you can also pay what you like to grab it – as always, if you're feeling it, drops some quids.
Guest verses come from
Stig of the Dump
,
Dr Syntax
and Deadline amongst others.
---
---