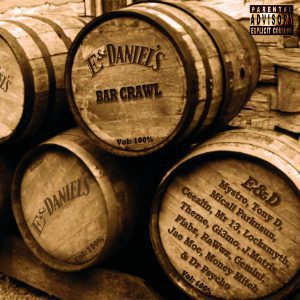 First up, E And Daniel's are billed as "a mixture not a crew". That seems fair enough; a meeting of a whole host of artists and producers which has resulted in this, the "Bar Crawl E.P.".
The line-up is expansive, and features some recognisable and also some less well-known names. Emcees include Tony D, Locksmyth, Mr 13, Dr Psycho, Ceezlin, Flabz, Jae Moe, Micall Parknsun, RaWwz, Mystro, Gemini, Gi3mo, Josiah Matrix and Rawz. Production credits go to Suspence, Endemic, Brainiac Beats, Last Resort, Earthman, NSD and Micall Parknsun.
The E.P. weighs in at 8 tracks, and with such a hefty line-up, there's at least a little something for everyone.
Opening the roster is Josiah Matrix backed by Suspence on the beats. Josiah riffs off the suspenseful keys as he takes us through city life from past to present, demonstrating ability on the mic in the clarity of his words and the pictures he paints.

It's the same after you lose someone – depressive saga, you try to blank it out – forget the drama, life – you need to try accept the karma. But still the pain's too hard to bear, though you fraternise with hype you know you ain't too hard to care.
Josiah Matrix
"Same Old Same" is backed by a head-nodding beat which paves the way for Mr 13, Ceezlin, Josiah Matrix and Flabz to jump on. Each emcee brings his own flavour to the track but they blend well and combine on the hook to make this track a quality follow-up to Josiah's introduction.
"What You Drinkin'?" is next in line and features the largest line-up on the E.P. Tony D, Locksmyth, Mr 13, Dr Psycho, Ceezlin, Flabz, Jae Moe, Micall Parknsun, RaWwz, Mystro, and Gemini all jump on the Brainiac Beats… well… beat.
Check this one out:
"Main Event" is aptly named. On a full-bodied adult beat, it's the job of Gi3mo and Josiah Matrix to come and kill it. Gi3mo goes in hard, and lays down my favourite verse of the E.P. (so far). The track is packed with quotables that you'll want to play back at least a couple of times just to check what you heard. We won't give you too many, but here's one:

Couldn't give a shit about how the country's run, I just take my little victories in life and get the money son. Lick a beat and give the drummer some, I'm troublesome. Act street, stick it on you like bubblegum.
"Halloween" has received the video treatment. Featuring Flabz, Josiah Matrix, Mr 13 and Dr Psycho on a Last Resorts beat:
"Slaughter" hosts Gi3mo, Theme, Josiah Matrix, and Flabz on a Micall Parknsun beat. Winning the award for most aggressive track on the E.P. each emcee brings a bag of hard-hitting bars.
"I Can't Keep" also boasts a video. The beat opens seductively with organ-based chords and an edgy sound, on an almost Mike Oldfield flex:
Closing the release is "Stereotype" by Rawzz on a Last Resort beat. Speaking (as billed) from the heart, Rawzz provides a more than decent ending to the E.P. Backed by violins, he expresses his views on politics, government, the police and the powers-that-be. There are some eye-opening bars on this one making it a track to repeat.
As we had hoped from such a large roster of emcees and producers (It's a mixture not a crew!), "Bar Crawl" provides variety and quality, with a range of beats, topics and bars that there is something for everyone to be found here. A fresh copy will only set you back 3.99, which we reckon equates to about 35p per artist (even less!). So, check out the videos available, then head over to iTunes to grab yourself a copy.
As always, leave your thoughts in the comments below.
---
---