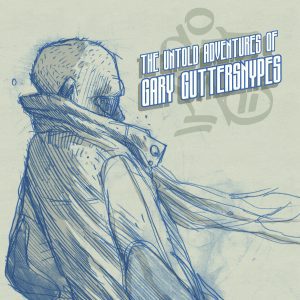 Gi3mo hails from Brighton, or as it's known by locals, Boozetown. Gi3mo is 20% of the emceeing force in the Rum Committee super crew. Today sees the release of his album "The Untold Adventures Of Gary Gutternsypes", a 13-track beast with precisely ZERO guest verses (aside from some vocals from Rag n Bone Man on a couple of tracks). Bloody hell I thought, opening up the album, this could go a couple of ways…
"Giztro" is the kick-off, boasting various vocal samples, an ethereal string and a sense of anticipation of what's to come.
The banging beat of "Better Late Than Never" kicks in, Gi3mo bemoans weak rappers and their habits. The hook is catchy (props also to Rag n Bone Man), and Gi3mo hits hard in impeccable flow-mode.

Fuck a salad, I'm as fat as Buddha at the boozer
Gi3mo
is just one of the quotables in the variety of funny, on-point lyrical commentaries on showcase here.
"Iron Gut" keeps the listener engaged, as Gi3mo takes us on a journey through his eyes. A hard-hitting track, with several punches to the… well, gut.
Messing with my money, you can count the cost, I get stung like a cloud of a thousand wasps, and you can watch while we drown in grog.
Gi3mo
"Go Back (Gold)" is a more relaxed joint, still a head-nodder, but with bars that will, at the very least, bring a smile to your lips. A few scratches on this number give track 4 the "funky" label so far on the album.
"Sultan" is another example of Gi3mo's abilities. His bars are fresh, and his voice takes charge on a slower beat, with turbo-charged bassline. Luckily, "Sultan" is the second single to have been released from the album, a great choice for a showcase of Gizzy's talent.
Without labouring the point on "quotables", "Sultan" also carries its fair share of bangers.

Hollering, like a drive-by bollocking, fake bitch catch a fat lip like collagen
"Edgy" is the word to describe the beat on "Mothership (Ego)", and by now I've found myself bitten by the Gi3mo venom. I'm hooked on his words, looking for the next chapter in the story.
"Bingo!" drops in with a bang, a lesson in faster flow with hard-hiting lyrics and Gi3mo shows us he's fast on the draw.
"Britflix" steals the title for themed track on this album. Any film fan worth his salt will find himself in his element, with enough cinematographic references to put IMDB out of business. The "magnum opus" of the album in my opinion, as this is the pinnacle of rhyming, staying true to a single concept, echoing the thoughts of Pete Cashmore: "the finest single-theme scheme you'll hear this year."
"Ashes Falling"'s bass-guitar draws you in for this smoky number, backed by the vocals of Rag n Bone Man. Gi3mo still carries the wordplay and freshness that he began the album with. He has the enviable ability to paint images in the mind, which is the kind of talent necessary for a 13 track solo album.

Hard-headed and I'm heartless like Tin Man, the Ying Yang spins, hands dirty like a binman, I'm that guy
Gi3mo
2 tracks later, the album is rounded off with "The Untold", a bonus track that ends our journey through Gi3mo's eyes, a journey of consistency but also variety, maturity and quality, quality hip hop.
As I mentioned in the introduction, this release had the potential to go a couple of ways. Gi3mo held my attention and kept me entertained throughout. He displays quality, varied themes and the beats provide something for everyone. If you enjoyed him in any Rum Committee material, you'll certainly find your place in "The Untold Adventures Of Gary Guttersnypes". And if you've never listened to Gi3mo before, this is the place to start. Not many emcees have the verbatim to carry out a project of this type.
"The Untold Adventures Of Gary Guttersnypes" is out today (22/11/2013), and you can find it on:
Rum Committee – Bandcamp
iTunes
Rarekind Records (physical)
Be sure to keep up to date with Gi3mo and Rum Committee:
Gi3mo's Website
Rum Committee Website
Credit to:

Be sure to cop more Rum Committee material:

---
---