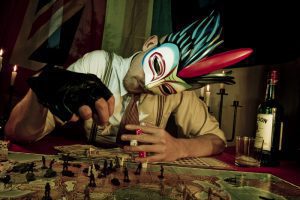 Chemo began as a Producer and DJ for south london group 'Frontline' along with MC's Syanyde and LeEo. Alongside rapper Conflix he created the Character Assassins series of mixtapes which were notable for featuring 'Assassin Sessions' which were recordings made in one take to simulate the live Cypher element of Hip-Hop events.
Alongside DJ Snuff, DJ Steas and Manage, Chemo founded Speakers Corner, a free entry monthly event held in Brixton promoting free speech.
After working on albums for Manage, Kyza, Kashmere, Verb T, Jehst, Triple Darkness and others, Chemo released a solo compilation album titled Squirrelz With Gunz, mixed by former World DMC champion DJ Skully.
A second compilation of his work between 2007-2011 entitled 'The Stomach of the Mountain' was released in 2011.
Chemo continues to collaborate with artists under the name Chemo, and reserves Telemachus for his full solo projects.
Chemo is the man/masterer/engineer/archangel behind a mountain of UK Hip Hop and is a massively talented individual.
Chemo now goes by Forest DLG.
---
---