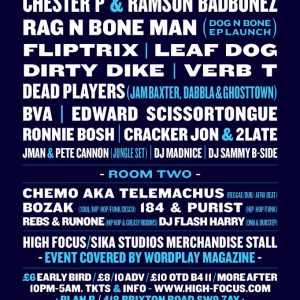 If you're in the mood for some live UKHH, you'll want to head over to Plan B in Brixton on Saturday 27th April 2013 where the High Focus 3rd Birthday will be celebrated. Naturally, the roster includes your HF heads, and a heap of other artists: Fliptrix, Dirty Dike, Jam Baxter, Dabbla, Leaf Dog, BVA MC, Verb T, Chester P, Ramson Badbonez, Ed Scissortongue, Ronnie Bosh and Cracker Jon. Lining the decks are: Madnice and Sammy B-Side. The Second Room houses producer antics from Chemo, 184 & Purist, Rebs & Runone and Hiatus.
Tickets will set you back 6 British Pounds in advance and can be bought online here. More details and updates will be available on the event page on Facebook.
We have included the flyer too:

Are you planning to attend? Let us know in the comments below.
---
---