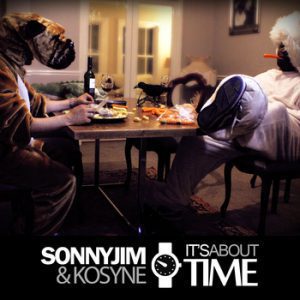 Labelmates and co-founders of Eatgood Records Kosyne and Sonnyjim have released the result of their collab. This one's been on the cards for a while and it's finally come. 6 full tracks – no interludes – and an array of guest verses from the likes of Foreign Beggars, labelmate Redbeard and vocalists Redmore and Dajuan. It carries a price-tag of FREE, so you can't say fairer than that.
Get a load of the visuals from opening track, "The Death Defying Saga", then cop the release from the links below.
E.P. links:
Sonnyjim's Bandcamp
Kosyne's Bandcamp
Press Release
From two of the co-founders of EATGOOD Records comes their long awaited debut EP "It's About Time". Sonnyjim & Kosyne have been sharing stages and trading rhymes together from way before either of them had made a dent on the hiphop scene. It's taken until now for the duo to put out a formal project for no other reason than time itself (as the title suggests). Since his introduction to the scene Sonny has risen up the ranks as one of the UK's hardest working wordsmiths releasing a barrage of premium material year in year out. Kosyne (despite his roots as a solo artist) had spent the last few years spearheading the world renouned Louis Den movement and co-producing the beatmaker driven DVD series "Behind Closed Doors". Sonnyjim and Kosyne formally hit the studio last year to start work on their long awaited EP; having been an idea since the pair first started working together they got in the lab and the project quickly took shape. The aim was to put together a slab of emcee centered tracks allowing them to get busy with flows, cadences and stylings while still belting out well constructed material. Assisting on a production tip are Fel Sweetenberg (NJ, USA) on two cuts and UK producers Apatight, Dag Nabit, Kelakovski and Jaisu. Guests include the infamous Foreign Beggars; fellow label mate Redbeard and vocalists Metamore and Dajuan. 6 tracks no filler, ill rhymes start to finish and FOR FREE as well! This first version of the EP is a clean edit, be on the lookout for a retail version to feature bonus tracks and remixes!
Peep the visual for the Death Defying Saga below www.youtube.com/watch?v=sVy4ohTXW8A credits released 17 December 2012 01.
Produced by Kelakovski 02.
Produced by Dag Nabit 03.
Produced by Fel Sweetenberg 04.
Produced by Jaisu 05.
Produced by Fel Sweetenberg 06.
Produced by Apatight
Outro skits on 02 and 04 produced by Kosyne.
---
---