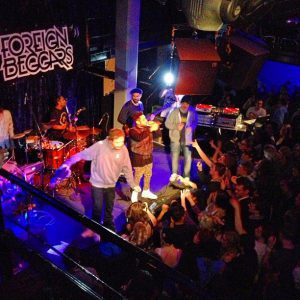 A look at a decade of success in UK Hip Hop
The 12th & 13th February 2013 saw UK Hip Hop crew Foreign Beggars celebrate the 10th anniversary of their existence at the Jazz Cafe in London. Anyone under 20 years of age will likely not remember their first album "Asylum Speakers" which hit the scene in 2003. In my eyes the album remains one of the most complete products to be produced in the UK Hip Hop genre to date. The album featured political, social and lifestyle themes, slow tracks and upbeat double time verses. Featuring guests (those in the Extended FB Fam) such as Skrein, Graziella, Dr Syntax, Tommy Evans, Task Force (Chester P & Farma G) and Supar Novar amongst others, the album demonstrated versatility in its (largely) dark beats, intelligent bars and varied themes.


In fact, I can safely say that this was one of the albums that got me into UK Hip Hop. I must have rinsed the CD at least 100 times, from start to finish. You can see our collection of lyrics from it here.
For those that have not experienced Asylum Speakers here is "Mind Out" (Track 17) featuring Skrein. The first version is the original album version and the second is the live rendition from the 10th Anniversary party at Jazz Cafe.
A very chilled out affair, and great to see Graziella, Skrein and Foreign Beggars all together, live on stage, with a live band. Next up is the (much) more upbeat, pacy track featuring Skinnyman, "Hold On", a UKHH track that regularly rips up speakers worldwide. A great example of OV's "skat" rapping.
https://www.youtube.com/watch?v=31U6wKbaosQ
As it is proved in the above videos Foreign Beggars and their collaborators hold a special place in the UK Hip Hop scene. It is UNKNOWN to see all these artists on stage at the same time, thus demonstrating how special this occasion was. This event celebrated 10 years of Foreign Beggars, but on a wider scale, it was proof that the genre has come a long way over time. Foreign Beggars are by no means the founding fathers of UKHH – it existed long before they emerged – but they have proved that the genre can withstand the test of time. Yes, more recently they have moved into genre-defying, speaker-obliterating electronic dance type affairs, but the familiar flows of Metropolis and OV are still present. This is just a worthy demonstration of versatility and artistic ability.
Twenty-somethings will hopefully relate to the points we've raised here. Older people may think we have overlooked those that came before the Foreign Beggars, Task Force, Tommy Evans and Mark B & Blades of this world. We simply think this celebration is a good sign for the scene as a whole; elders demonstrating positive messages to the younger heads, hopefully inspiring future generations. Staying power is a rapidly-fading commodity in these fickle times of one-hit wonders. It is interesting to think who will be celebrating 10 years of success in 2020 or 2030.
It is fantastic to see one of Foreign Beggars' long time collaborators Dr Syntax up on stage with them too. In fact, he still tours with them as well as putting out many projects of his own. It would be a travesty to write about Foreign Beggars' reign of success without sending a very honourable mention to rap scholar Dr Syntax. None can doubt his ability or workrate and he is another example of the staying power of the artists in ULHH.
We leave you with a full version of the 10th Anniversary of Asylum Speakers celebration. Those who lived the album in 2003 will surely enjoy this, and hopefully younger UKHH fans will enjoy it too. Good news is delivered in the video; Metropolis and OV reveal they have a new album coming this year that "fans of Asylum Speakers will enjoy".
Let us know your take on all the points we've raised in the comments below. Long live Foreign Beggars and The Extended Fam and UKHH!
Credits: Don't Flop's Cruger for the last video, itch.fm and all the artists mentioned in this article.
---
---